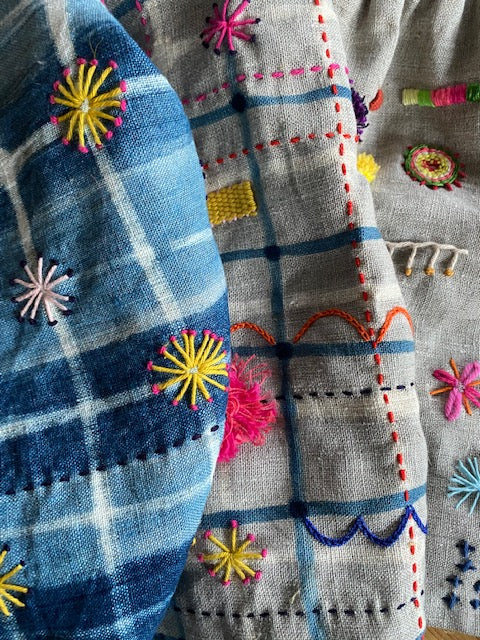 Join Cath from Happenstore for a fun filled, exciting, expressive workshop weekend!
On Saturday 2pm-5pm you will discover the joy and freedom of painting with indigo.
Cath will guide you through the beauty of this ancient blue medium and you will create unique patterns and marks on two tea-towels, and a scarf length of linen.
You will be amazed at what will evolve! All for you to take home.

On Sunday 10am-4pm you will gather together along a table of colour and thread, and stitch into pre made linen tote bags that have been painted by Cath. If your piece from Saturday is washed and dry, you are most welcome to bring it back to embellish..but if not, there will be others ready for you. It is soo much fun..be a beginner or more advanced, this workshop will cover many stitches and styles and break down a few rules too! A wonderful way to spend a Sunday.

This workshop includes light refreshments and a light lunch on Sunday, we have coffee and tea making facilities to sustain you through the workshop but if you prefer your caffeine made by a barista you can pick one up on your way in from Aslan Cafe located a short stroll from the workshop, there is no need to bring anything just come along and start making.

For the indigo workshop it is advised to not wear your best white shirt, as the blue ink colour always finds a way! we will provide you with an apron to use throughout the workshop but it's still a good idea to wear your oldies.
Can't wait to see you!
When: 
Saturday 17th June 2023 2pm to 5pm
Sunday 18th June 2023 10am to 4pm
Venue:  
Made by Me Workshop
100A May Street St Peters NSW 2044
Price: $360 (total price for both days)
Cancellation Policy: Due to the limited number of spaces for workshops, all bookings are final and strictly non refundable. We do not refund classes but you are welcome to send someone else in your place if you can't make it on the day. Since Cath is a special guest teacher it is not possible to reschedule the workshop to another day. In most of our workshops we require a minimum number of people to run the workshop and will do our absolute best to run every workshop we list but occasionally it is not commercially feasible to do so. In the unlikely event that we don't reach this number, we may cancel the class; in this case, we'll inform you and allow you to get a full refund or reschedule.