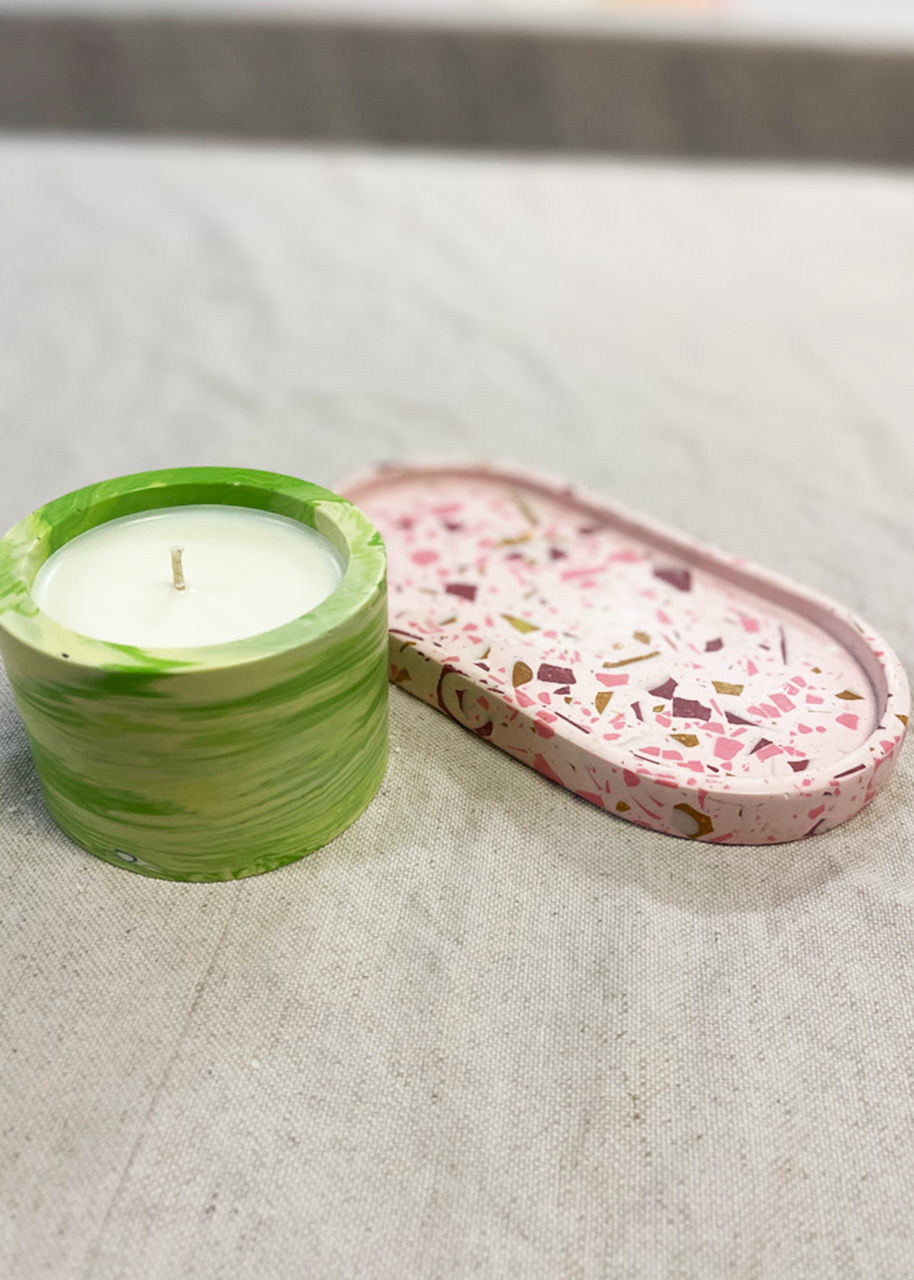 Your child will explore colour and Texture while creating beautiful pieces you won't believe they made themselves!
If you're searching for a great school holiday activity for a creatively minded child, this Sydney workshop provides hands-on messy fun that you don't have to clean up!

In this workshop, we will guide your child through all the steps to make an oval trinket tray and a small pot using acrylic resin. They will choose and mix all their own colours and explore 2 different techniques to create texture in their moulded pieces. They can decide which shape they would like to marble and which to cast with terrazzo chips.
Acrylic Resin is a gypsum and acrylic-based material, which is solvent-free and has no VOC's and is often called an eco-resin. It is safe and easy to work with, beginner-friendly and produces great results.

What kids will learn:
Understand the principles of mixing colour using only primary colours, black & white pigments.
Learn how to mix and add colours to the Acrylic Resin to create their own colour palette.
How to create coloured chips.
How to mix different shades to create a marbled effect.
How to cast the materials into a silicon mould.
Once their pieces are cured we will show them how to sand and seal it and send them home with a finished piece ready to display proudly!
When: 
Friday 29th September 2023 9am to 3pm
Wednesday 3rd October 2023 9am to 3pm
Venue:  
Made by Me Workshop
100A May Street St Peters NSW 2044
Price: $120
We believe craft is as much about creativity as it is about connection, so in our workshops your child will have the opportunity to meet new friends and enjoy learning some new skills away from their screens. Kids will learn new skills they can apply to future fun projects outside of class. Class sizes are always kept small so that they enjoy hands-on assistance while they learn and create.

Our space is secure and not open to people who have not booked into a workshop. All teachers have a valid working with children check that can be shown upon request.

Parents need to drop off children in person and complete the admission & a release form that will indemnify Made by Me Workshop from any claims or liability related to any accidents that occur while participating in any of our kids workshops.

Sadly we can not accept Creative Kids Vouchers at this time.
Cancellation Policy: all bookings are final and strictly non-refundable. However, you can reschedule your class with at least 7 days' notice. Rescheduling with less than 7 days' notice will incur a $50 rescheduling fee, and rescheduling with less than 24 hours' notice will result in cancellation without the possibility of a refund. If future workshop dates or times don't work for you, you can use the value of your booking toward another workshop within 6 months.