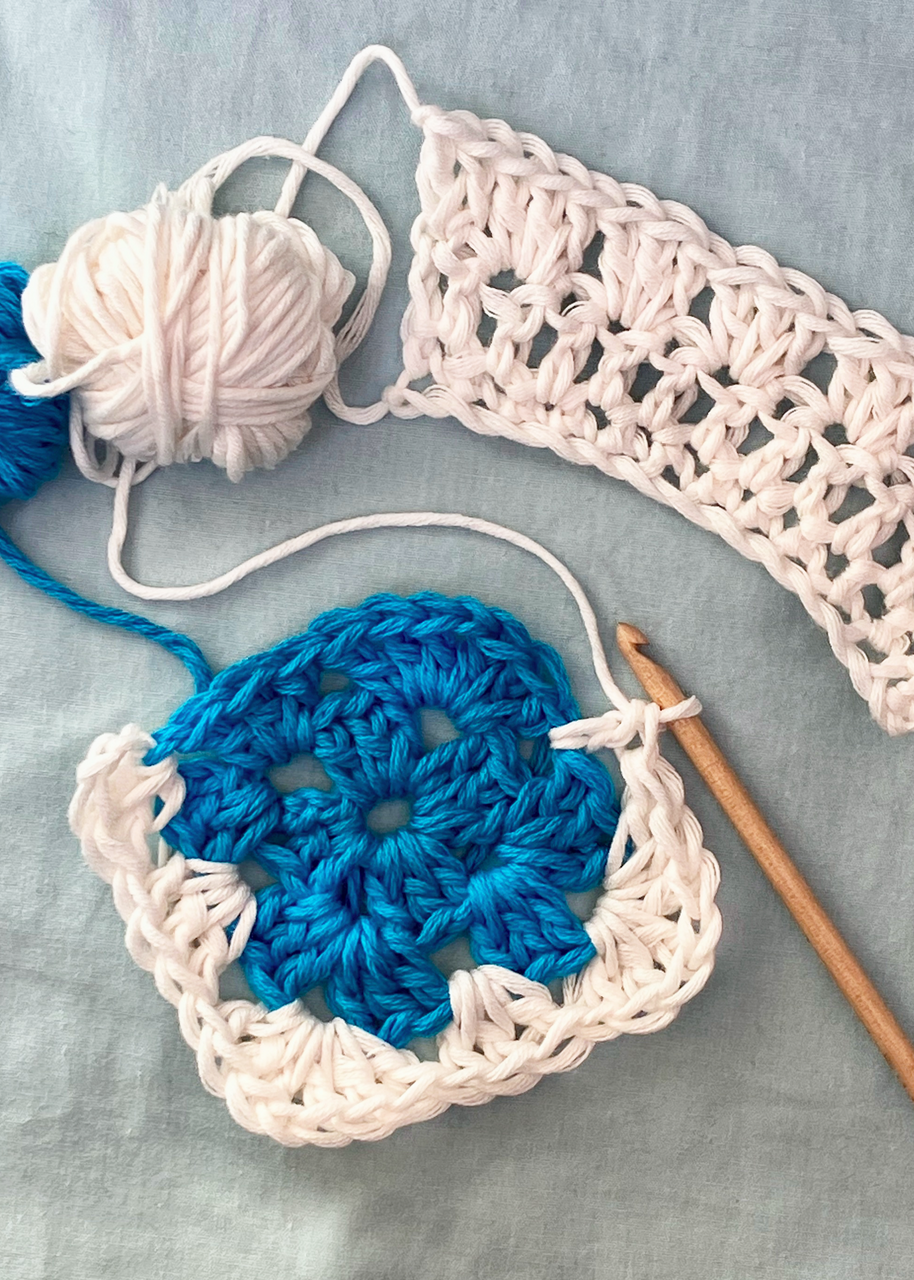 Always wanted to master a granny square but have no idea how to crochet?
If you love the look of a Granny Square and have always wanted to make your own blanket, bag or possibly a vest or jumper but really have no idea where to start, then this workshop is perfect for you. In our beginner-friendly Learn to Crochet Workshop, our talented teacher Lyndell Wright will guide you through essential techniques and help you create your own beautiful crocheted pieces.

During this workshop, you'll learn all the essential crochet techniques, from the slip knot and chain to the no wrap stitch (single Crochet / double crochet) and the 1 wrap stitch (double crochet / treble crochet). Lyndell will also teach you the half stitch, the slip stitch, and how to read a pattern diagram. With these basic skills, you'll be able to make a mat or dishcloth.

But it's not just about learning new skills, it's about connecting with fellow crafters in our welcoming workshop space. You'll have the opportunity to share your creations, exchange ideas, and make new friends who share your passion for knitting and crafts. Plus, we'll keep you energized and inspired with a delightful morning or afternoon tea or coffee.

Led by Lyndell, a professional craftsperson with over five decades of knitting and crocheting experience, this workshop guarantees to ignite your creativity and foster new craft addictions. Whether you're a complete beginner or have some knitting knowledge, Lyndell will provide expert guidance and personalized attention to help you develop your skills.

By the end of the workshop, you'll have all the skills you need to create a simple and stylish scarf. If all goes to plan and the class is eager, Lyndell will even get you started with a magic circle and a Granny Square. You'll be amazed at the beautiful creations you can make with just a few stitches.
Don't miss out on this incredible opportunity to learn a new skill and unleash your creativity. Join us and discover the joy of crochet!

When: 
Saturday 12th August 2023 10am to 1pm
Saturday 26th August 2023 2pm to 5pm
Sunday 10th September 2023 2pm to 5pm
What you get:
Everything you need will be provided including:
A pair bamboo crochet hook
A ball of wool
A set of written instructions
Morning / afternoon tea or coffee
What you need to bring with you:
There is no need to bring anything except yourself.
Venue:  
Made by Me Workshop
100A May Street St Peters NSW 2044
Price: $115
Suitable for:
 This workshop is beginner-friendly - No prior knowledge, or skills are required!

Cancellation Policy: Due to the limited number of spaces for workshops, all bookings are final and strictly non refundable. We do not refund classes but you are welcome to send someone else in your place if you can't make it on the day. Since Lyndell is a special guest teacher it is not possible to reschedule the workshop to another day. In most of our workshops we require a minimum number of people to run the workshop and will do our absolute best to run every workshop we list but occasionally it is not commercially feasible to do so. In the unlikely event that we don't reach this number, we may cancel the class; in this case, we'll inform you and allow you to get a full refund or reschedule.