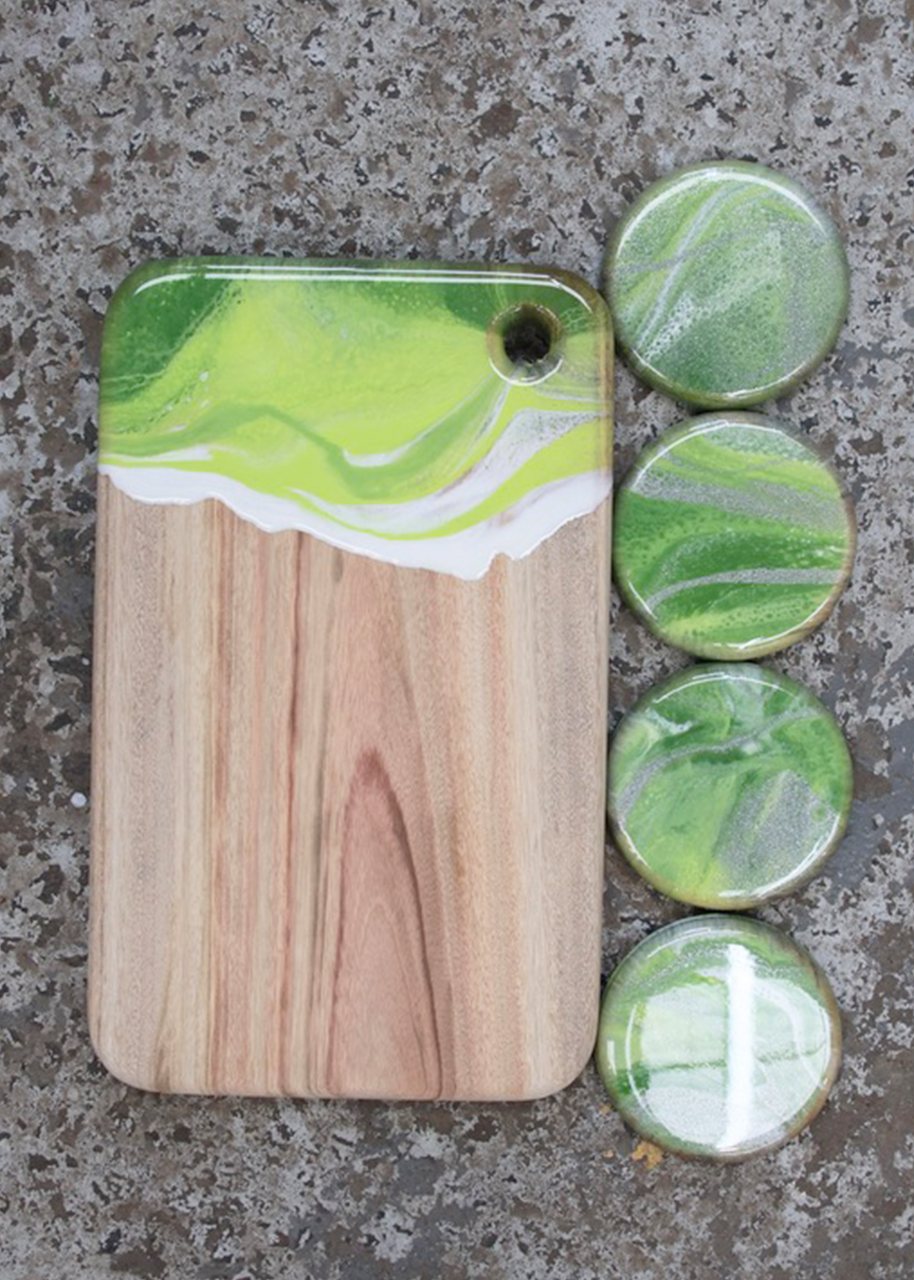 Not all resins and boards are created 

equal

, we only use the best of both! Turn your next cheese platter into a masterpiece with your very own resin trimmed serving board. We'll give you the tools and techniques to turn your creativity into a beautiful object you'll be proud to show off at your next dinner party! 
Rebecca, our chief crafting officer, is one of Sydney's most experienced and reputable resin artists. Rebecca has been working with resin for over 3 decades, she is passionate about supplying the best quality materials to ensure a great outcome you will be proud to say was "MADE BY ME"
She will guide you through the steps to create your serving board(s) & coasters, including how to safely work with resin to achieve a quality finish. Our boards & coasters are made from a single piece of kiln-dried camphor laurel timber which are shaped to ensure a quality resin application. Camphor laurel is 100 per cent antibacterial making them the best timber for food service and the most hygienic and quality boards on the market. 
What you get:  
Experienced and expert instruction as well as everything you need including your choice of boards & coasters, enough resin, pigments and powders to mix your colours and create your own serving boards. 
Choose from the following boards (select after clicking "book"):
1x rectangular board & 4 coaster set $150
1x

rectangular

board & 1 x larger paddle board $180 (choose round, square or

rectangular

paddle)
2 x larger paddle boards $200 (choose round, square or

rectangular

paddle)
The full set 4 coaster set, 1x

rectangular

board & 1 x larger paddle board $220 (choose round, square or

rectangular

)
Don't worry if you're not sure you can always upgrade when you arrive at the workshop.(stock permitting)
What you will learn: 
What resin is & how to safely work with it,
How to set up your serving boards,
How to properly mix your resin,
How to add different pigments, powders, metallics & glitters to colour your resin,
The techniques and steps to decorate your boards.
How to finish the backs of your boards once dried and cured.
It can get a bit messy so don't dress to impress. Your boards will need 24 hours to dry, you will need to collect your pieces from the studio in the following days. Postage can be arranged for an additional charge. 
Venue:    

Made by Me Workshop
100A May Street St Peters NSW 2044
We believe craft is as much about creativity as it is about connection, in our workshops you have the opportunity to meet new friends, share a few stories, laugh with each other and simply enjoy some time out for yourself.
This class is not recommended for pregnant women or children under the age of 16 years as chemicals are used.
Cancellation Policy: You can reschedule your class with up to 10 days notice,

24 hours notice if you must COVID-isolate (proof maybe requested) W

e do not refund classes but you are welcome to send someone else in your place if you can't make it on the day. We reserve the right to cancel classes if minimum numbers are not met in which case we will offer to reschedule or a full refund.