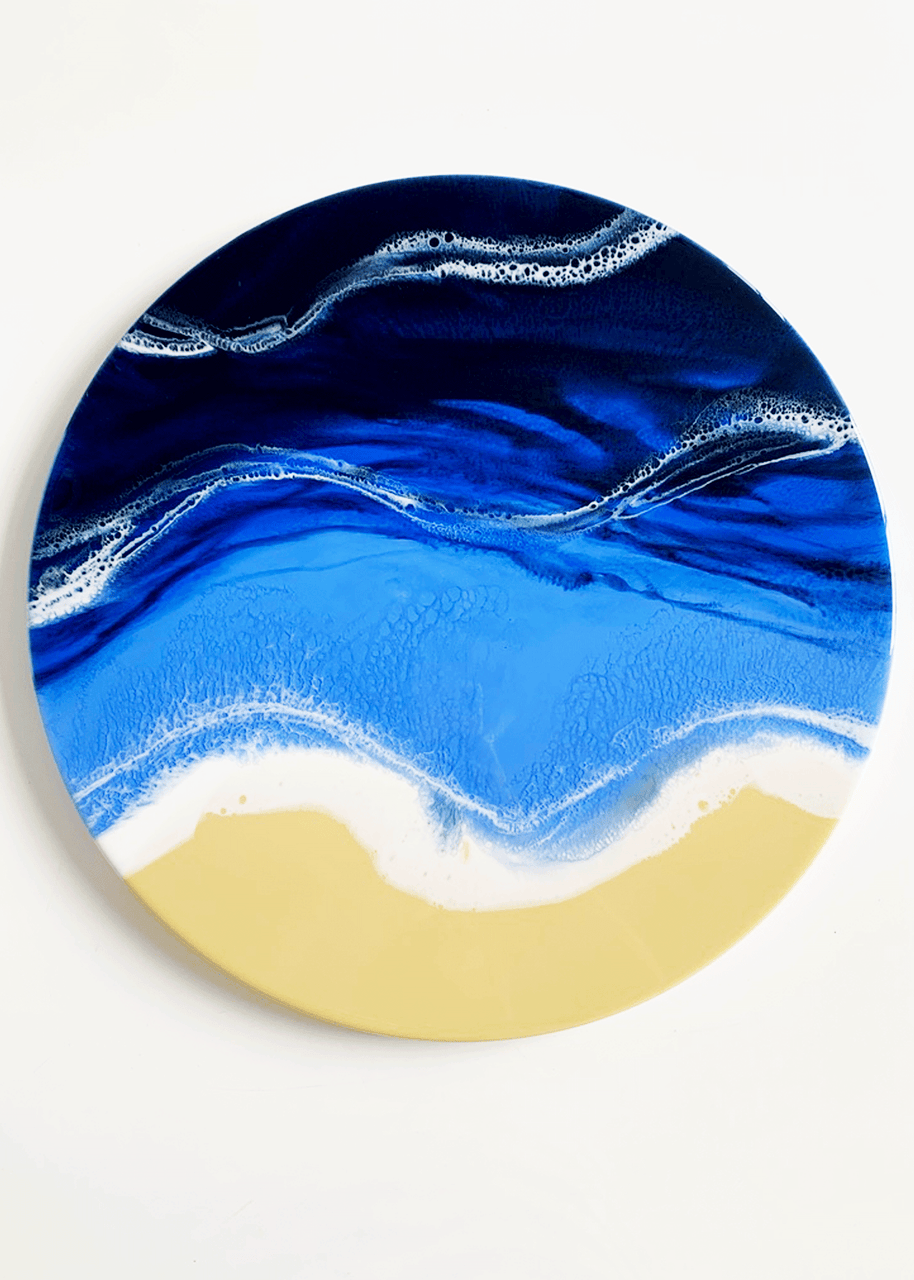 Create your own little piece of serenity to hang on your wall in this hands on workshop.

Check your control freak at the door and surrender yourself to the free form medium of epoxy resin.
In this workshop we'll teach you all the tips and techniques you need to create your own one of a kind resin art. Whether you like your resin art abstract or if you prefer to create a more literal ocean or beach inspired piece, this class is for you - we will demonstrate both methods. 
What you get:
50cm round artboard, enough resin, pigments and powders to mix your colours and create your artwork. No previous experience or skills required. All that you need is an open mind and a sense of adventure.
What you will learn: 
What resin is & how to safely work with it,
What surfaces are suitable for resin application,

How to properly mix your resin,
How to add different pigments to colour your resin and
The techniques used to create cells and lacing effects that replicate the white wash of the ocean lapping on a beach.
We will have some shells and small rocks or pebbles on hand to add to your artwork if you wish but feel free to bring along any you may have at home and want to incorporate if you choose to create an ocean scene.
Venue: 
Made by Me Workshop
206 Australia Street, Newtown NSW 2042
You will need to enter through the general store and then head upstairs to our studio, we will meet you out the front to check you in and escort you upstairs.
It can get a bit messy so don't dress to impress, we will supply aprons to use in the workshop. Your artwork will need 24 hours to dry, you will need to collect your pieces the following day. Postage can be arranged for an additional charge. 
We believe craft is as much about creativity as it is about connection, in our workshops you have the opportunity to meet new friends, share a few stories, laugh with each other and simply enjoy some time out for yourself.
This class is not recommended for pregnant women or children under the age of 16 years as chemicals are used.
Cancellation Policy: You can reschedule your class with up to 10 days notice,

24 hours notice if you must COVID-isolate (proof maybe requested) W

e do not refund classes but you are welcome to send someone else in your place if you can't make it on the day. We reserve the right to cancel classes if minimum numbers are not met in which case we will offer to reschedule or a full refund.