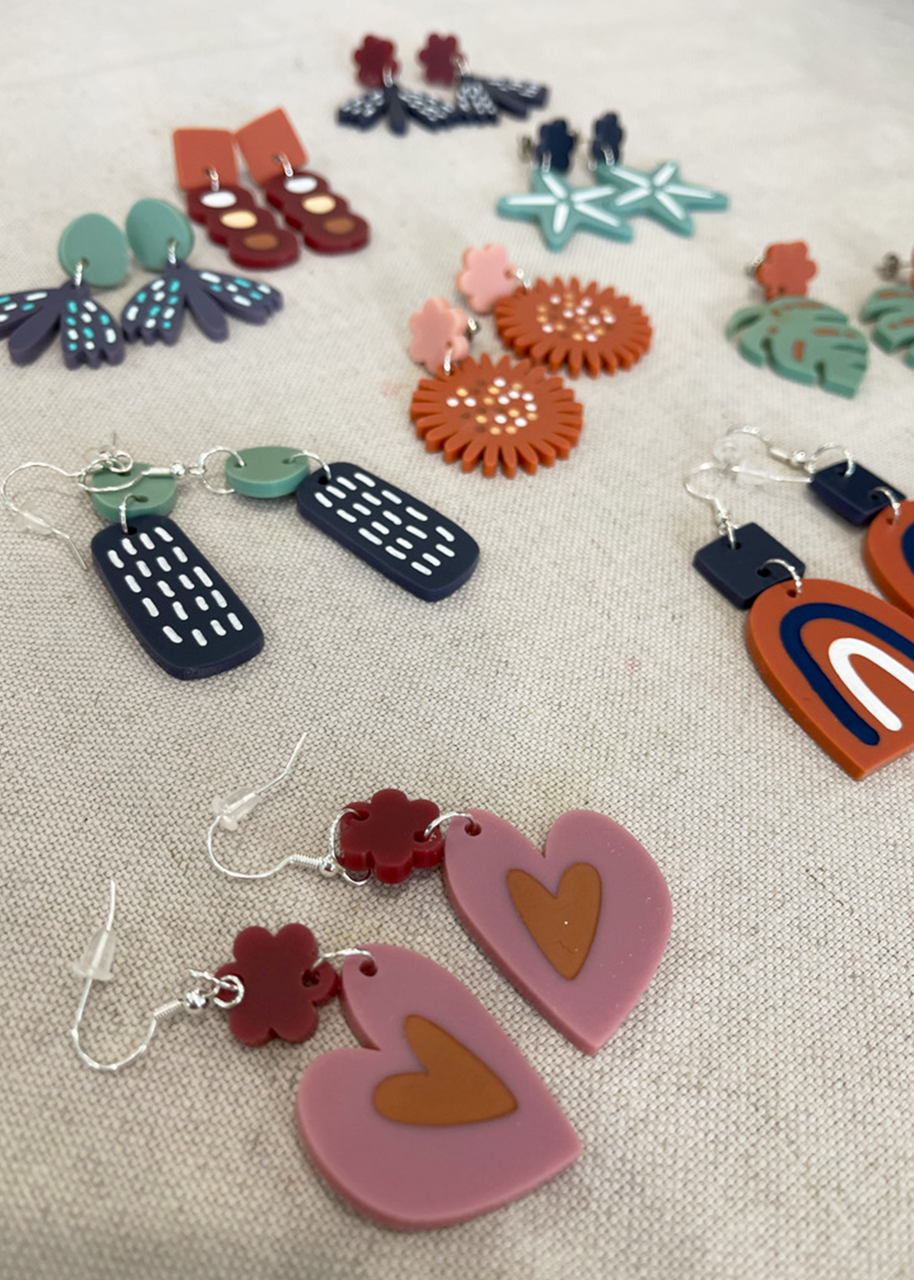 Craft unique earrings, share moments in our 'Crafter Hours' series, where creativity meets connection!
Dive into the world of jewellery design as you create your own earrings! choose your components from a huge range of pre-cut acrylic pieces in an assortment of colours and finishes. Then mix and match to suit your personal style and preferences.

But the fun doesn't stop there! you can add your personal touch: Colour in the pre-etched sections with easy-to-use paint markers, infusing your style and individuality into your jewellery.

Our Crafter Hours Workshops would typically last for 2 hours, but we've extended it to 3 hours to ensure you have ample time to socialise with your friends, enjoy BYO food and drinks, or better yet order from one of the fantastic Inner West Restaurants on Uber Eats. We'll provide the tableware, glassware and we'll handle the cleanup.

Complete three pairs of earrings during the workshop and take home not just your stylish creations but also wonderful memories to cherish. Looking to make more jewellery or want to gift a kit for Christmas? We will have additional kits available for purchase.

Whether you're an experienced crafter or new to jewellery design, our "Build Your Own Bling" workshop is your opportunity to add a touch of individuality to your life and create memorable moments with your friends.
Don't miss out on this unique shared experience. Reserve your spot today and express your style in your own unique way!

What you will get: 
We will supply all the components as well as the tools needed to create 3 pairs of earrings.
Expert guidance from our skilled instructors
Plenty of inspiration for crafting your unique jewellery pieces
The opportunity to create one-of-a-kind, handcrafted earrings you will bw proud to say were "Made By Me!"
BYO drinks, snacks or order dinner to be delivered direct to our door! We have all the table & glassware you will need!
Venue:  
Made by Me Workshop
100A May Street St Peters NSW 2044
Price: $85
Our workshops are as much about creativity as they are about connection, in our space you have the opportunity to meet new friends, share a few stories, laugh with each other and simply enjoy some time out for yourself. We have tea & coffee making facilities and always some treats on hand. 
Cancellation Policy: Due to the seasonal nature of this workshop and the limited spaces, you can not cancel your workshop, we will try to accomodate requests to reschedule if there are spaces in another workshop but we ask a minimum of 5 days notice so that we can refill your spot. We do not refund classes but you are welcome to send someone else in your place if you can't make it on the day. In most of our workshops we require a minimum number of people to run the workshop and will do our absolute best to run every workshop we list but occasionally it is not commercially feasible to do so. In the unlikely event that we don't reach this number, we may cancel the class; in this case, we'll inform you and allow you to get a full refund or reschedule.