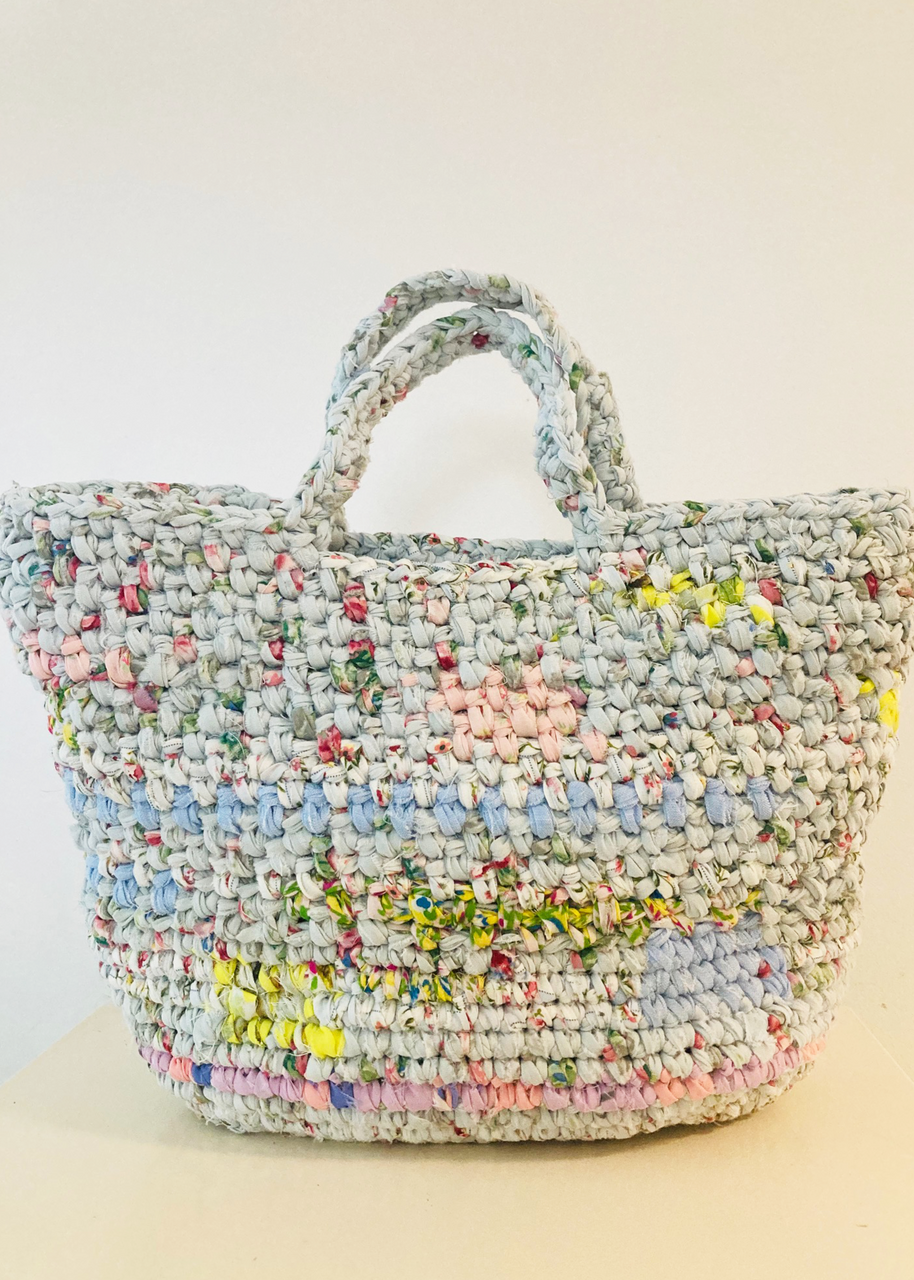 Learn how to crochet your own bag so you can put that fabric and yarn stash to good use!
We are thrilled to be welcoming the very talented Pauline Franklyn all the way from Perth W.A. for this one-off Crochet Bag Workshop.
If you have a growing stash and love making use of something you already have, whether it's fabric, yarn or garments then this is the workshop for you! Pauline say's "Making something useful and beautiful is my goal and this Crochet Bag is perfect".
In this workshop Pauline will get you started on your crochet bag. Once you get the basics, there is a lot of room for your own individual designs, shape and size. I will provide a variety of fabric that you can begin with and then you can continue to grow your bag from your own stash at home.
Pauline will also share some ideas for sourcing and up-cycling making this not only a great creative workshop but a class in sustainability!
Pauline will share her knowledge for completing a really beautiful and unique bag that you will love to use.

Throughout the workshop, we'll make sure you stay energized and inspired with a lovely afternoon tea or coffee. It's the perfect opportunity to connect with fellow crafters in our welcoming workshop space.
About Pauline: 
Pauline Franklyn has developed and explored her love of textiles through stitching, felting, crochet and appliqué for over 20 years.
She teaches weekly workshops from her home studio in Perth W.A. and loves sharing her knowledge and enthusiasm for making.
Pauline makes beautiful, unique items to bring joy and colour to your life.
Don't miss out on this incredible opportunity to learn from a true master of the craft, unleash your creativity, and indulge in the art of embroidery.
When: 
Saturday 10th September 2023 2pm to 5pm
What you get:
Everything you need will be provided including:
A crochet hook
Instructions for completing your bag
Fabric to use throughout the workshop
Morning tea (or coffee)
What you need to bring with you:
If you would like to bring along some of your own fabric you are very welcome, but it is optional.
Venue:  
Made by Me Workshop
100A May Street St Peters NSW 2044
Price: $150
Suitable for:
Basic crochet skills are required for this workshop, the crochet stitch is simple but using fabric can be tricky.
Cancellation Policy: Due to the limited number of spaces for workshops, all bookings are final and strictly non refundable. We do not refund classes but you are welcome to send someone else in your place if you can't make it on the day. Since Pauline is a special guest teacher it is not possible to reschedule the workshop to another day. In most of our workshops we require a minimum number of people to run the workshop and will do our absolute best to run every workshop we list but occasionally it is not commercially feasible to do so. In the unlikely event that we don't reach this number, we may cancel the class; in this case, we'll inform you and allow you to get a full refund or reschedule.