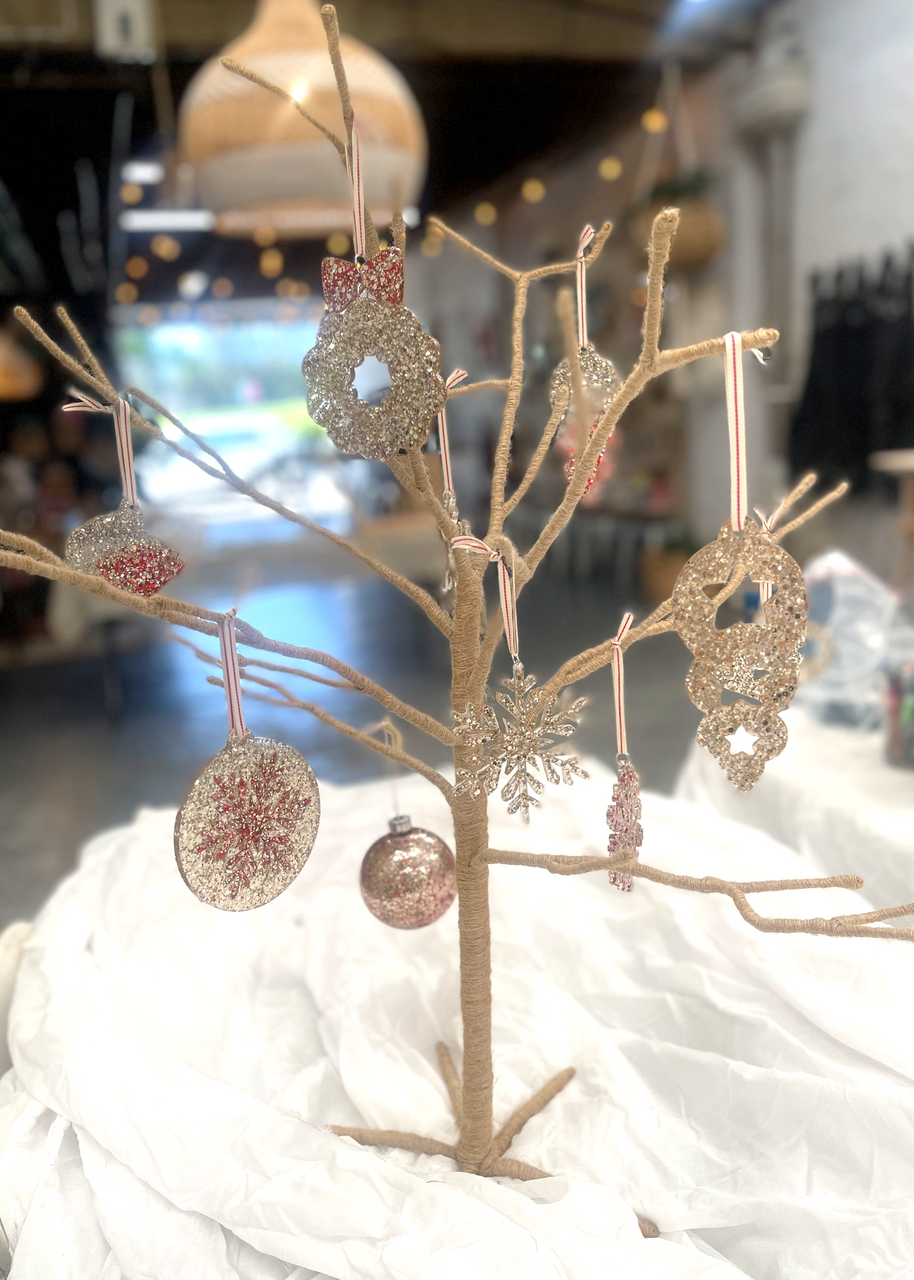 Create your own beautiful Christmas decorations from epoxy resin!
We start this workshop by creating your own silicon mould that you will use to cast your resin decorations. Select from our range of Christmas themed shapes, stars, snowflakes, Christmas trees and more to create your mould, this will set with plenty of time for you to mix and cast your resin. We have a huge range of colours, glitters and pearlescent pigments to choose from so your decorations will be a true reflection of your Christmas personality! The best part, you keep your mould so you can make more decorations at home for for many Christmases to come.
What you will learn:
What resin / silicon is and how to safely work with them, 

How to properly mix your silicon and create your mould,

How to properly mix your resin,

How to add different pigments, powders and glitters to colour your resin,

How to mould resin using your silicon moulds,

How to de-mould and finish your decorations.
At the end of this workshop, you should understand the basic principles of casting resin into silicone moulds, but be warned you will probably want to keep making more, luckily you will own your mould so that you can.
Don't worry if you're a beginner, our experienced instructors will be by your side, providing hands-on assistance in our small class setting. We prioritize quality materials to ensure you achieve stunning results that you'll be proud to display to your loved ones.

After the workshop, your decorations will need time to cure overnight. You can collect them from our studio at a later date or arrange for delivery for a small additional cost.

But this class is more than just a crafting experience. It's an opportunity to connect with others, make new friends, and enjoy some well-deserved "me time." Gather your friends and bring some bubbles to make the session truly festive. And don't worry, we promise we won't sing along to the Christmas carols playing in the background (we want you to come back, after all).

Whether you're looking for a fun group activity or team-building event, we've got you covered. Our studio can accommodate groups of 6 to 30 people (possibly a few more), or we can bring the workshop to your location.

Join our resin art class in Sydney workshop and unlock your artistic potential in a supportive and welcoming environment. The skills you learn will empower you to continue creating stunning resin decorations long after the class is over.
Venue:  
Made by Me Workshop
100A May Street St Peters NSW 2044

Price: $150
Our workshops are as much about creativity as they are about connection, in our space you have the opportunity to meet new friends, share a few stories, laugh with each other and simply enjoy some time out for yourself. 
Gather your friends and bring some bubbles to make the session more festive, we may even play a few Christmas carols to get everyone in the mood but promise to TRY not to sing-a-long (we want you to come back after all). 

This is a great workshop for a group or team building activity, we can run this in our studio for groups of up to 10 people or we can travel to your location for larger groups of up to 30 people.
Cancellation Policy: You can reschedule your class with up to 3 days notice. We do not refund classes but you are welcome to send someone else in your place if you can't make it on the day. In most of our workshops we require a minimum number of people to run the workshop and will do our absolute best to run every workshop we list but occasionally it is not commercially feasible to do so. In the unlikely event that we don't reach this number, we may cancel the class; in this case, we'll inform you and allow you to get a full refund or reschedule.